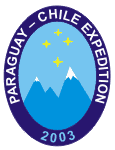 ---
PARACHI 2003 EXPEDITION
---
About the expedition
During the period of August 31 till September 26 we had arranged an expedition to Paraguay, Argentina and Chile. At the beginning we participated in the conference held at the Universidad Nacional de Asuncion, Paraguay. Then we visited the biggest falls on the Earth - Iguazu Falls, located on the border of Argentina and Brazil. From the majestic waterfalls we moved to the La Quinta ranch in Paraguay. Afterwards we continued to the Grand Chaco plain, not fully investigated flat, alluvial plain, which is three times bigger than the Czech Republic, but only sparsely settled by small numbers of Indian collonies.
After the Chaco visit we had passed to the Argentine Salta, and spent several days with the outings to the Andes' mountains. Originally we intended to cross the Andes to Chile by train (Tren de las Nubes - Train to the Clouds). But nowadays the train serves as a tourist attraction and does not cross the border. Therefore we passed the Andes by bus in the altitude of 5 000 meters to the Chilean Antofagasta, where the ESO (European Southern Observatory) office resides. The most interesting part of the expedition was the VLT (Very Large Telescope) visit. VLT is the biggest telescope in the world, located 120 km southwards from Antofagasta, in the Atacama desert, 2 600 meters above the sea level. The telescope consists from four 8.2 meter telescopes which in near future will work in combined interferometer regime. The last part of our way followed the Chilean coast to Santiago, from where we had a flight to the Europe.
As a whole we traveled 6 400 kilometers over the South America continent, took 1 800 photos and recorded several hours of video clips.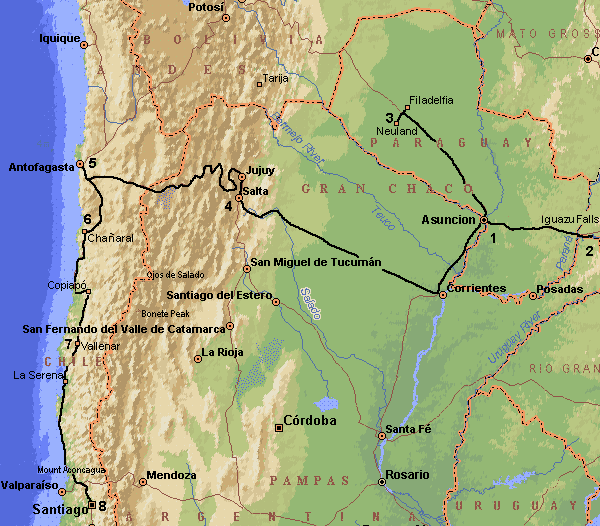 Participants
Itinerary
Asuncion (Paraguay) - Itaipu (dam) - Iguazu (waterfalls) - Grand Chaco - Salta (Argentina) - Andes - Antofagasta (Chile) - VLT - Chaņaral - Vallenar - Santiago

---