---
REPORTAGE, PART 1
---
Rostik: Epedition to the dance of the northern lights
When several friends met and decided to make a trip, it is not so strange. When they planned a several days expedition with tents, it is still not so strange. When they took a several days rations, it could be still an ordinary trip. But when 12 people met and the trip will last for three weeks, it seems not so ordinary and when someone says it will take a place in autumn and the final point will be North Cape, now it is a little bit extra-ordinary.
It is left to said that almost everyone in the team has one of the academic degrees and for everyone in the team the expedition will be a deep soul experience with long-time memories.
So, how to describe the expedition, when I became one of them, how to describe the beautiful moments, we absorbed, when I can't still believe in it? Because many northern lights we observed and many experiences and pictures we took with us. How to describe 12 people expedition with three cars to see the northern lights, when now it seems so fantastic? So, let me tell you now a story, which I wrote in my diary and is affected by myself.
---
8th - 10th September
In trams and buses I'm writing a "Song against a dark mood" a I had a lot of fun with it. It is against a possibility that we will be bored with ourselves beyond the polar circle. But after my today's experience, it couldn't come round.
11th September
Trying to wrap everything, I want to take, seems like a mission impossible. At 7 o'clock I took the train from Rokycany, the train is 10 minutes late. At the Smichovske nadrazi station Petr Kulhanek with one boy, I don't recognize, is waiting. Now I know it was Karel. We are going shopping and I'm coming to know that my food selection is not perfect, because I didn't count with so many pastas and even not with food for five people. Later it proved as a little mistake.
After arriving to Petr's home we are solving several urgent messages. Karel is explaining to me main points of the expedition on our notebook (now we know that the notebook's battery has a great value) and Petr is chaotically finalizing his tasks.
12th September
We are waking up at 4 o'clock, a few minutes after we went asleep. It is needed to load a tons of our equipment in our car, Karel is for the first and last time taking this work and is trying to remember the location of all things we have. He is successful for the first and last time. At the last moment one friend comes, now I know it is Jakub, and adds his big pack to our car. I'm taking the first photos: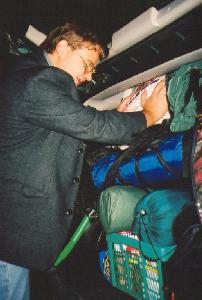 At 5 o'clock we are arriving at Faculty of Electrical Engineering CTU. Here is two other cars full of people and their equipment I don't know. I recognize some of them e.g. David, the boss of the expedition, who is breaking his silence and calling on me: "Hi, Rosta!".
We are breaking through the gate to the faculty and gate-man is hardly recognizing expected part of the faculty staff. We are taking the last things from room 30, which is the base of Aldebaran association to which we can thank for realizing this expedition and to which most of participants belong.
Three cars is at the beginning of this expedition: Petr's Opel combi, Jan Pasek's Fabia (not combi) and Felicia combi, borrowed car with strange raspberry color. In them there is 12 people fighting with their backpacks. We settle down the first randezvous a we are starting to north.
Several hours later all of us meet before country border and we are going on to Germany (Dresden, Berlin, Hamburg) and further to the north. In Denmark there is a new beautiful bridge across the sea and is splitted into two parts with a small island: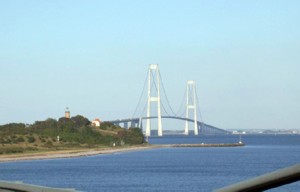 Above: the first part, bellow the second one with the island
In front of Copenhagen, we are finding the first (and for the long time the last) hostel to sleep in and we can't appreciate the comfort of the bath and the beds.
From that day we have learned the saying: "tumble Karel", because when I've met David in the bathroom he have told me that he tumbled his Karel. I asked him once-more, but still he was convincing me that it was great. So we came to our room and tumbled Karel. It was great.

Later during expedition: Still tumbling Karel
We drove that day more than 1100km so we are falling to our beds with new bed sheets and almost at that moment we are asleep (see Gossips).
13th September
In the morning we have the first session out of Prague. We are looking at our maps right in front of the hostel and hot discussion about our next way appears. We are planning way for a whole day and first commanders arise. On the next photo, Karel is our boss:
Then, we are starting across the next bridge to Sweden.
We are seeing many beautiful views from cars and we are finding a pleasure in some of them. We are still driving to the north. Before we arrived to the Stockholm capital city, one of our car had lost its exhaust pipe (it was borrowed Felicia). We are taking a photo of the exhaust a became in the center of interest.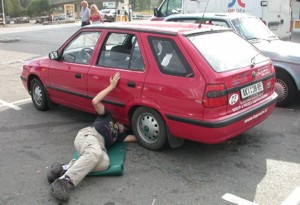 David, after the quick look at the car seats, said: "We have to eat to make a place for Jirka", because the last member of our expedition, Jiri Hofman, is waiting for us in Stockholm city impatient, where he had taken a ferry boat from Finnish Turku. If we didn't eat so much I don't know where should Jirka sit.
We are building our tents several kilometers behind Stockholm, near the Uppsala city, on the grass near fantastic alley. I'm taking nice photos of sunset and making a short movie with Jakub preparing supper. He got a nick: "medicine-man". I have to admit that he was the great cook I've ever seen.
Jiri is joining us and explaining to us many of Scandinavian's customs and to the late night we can't believe in some of them. He has a difficulty with finding our way of talking, because in our eyes he spent a long time in Finland and he has a difficulty to find a someone to understand him. He is studying and working in Finnish Tampere city more than one year. He is shocking everyone with his story about his hat with two layers and his special gloves against the chill. He assured us that we can't frozen drunken at the street, because everyone will call police to arrest us. So now we know for sure that this is a very nice country.
I started to look forward to explore this land of special hats and gloves.